May the Fourth Holiday – Chicago Extra Life
May the Fourth is a holiday celebrated by Star Wars fans everywhere. This year, the Panda Cares Center of Hope inpatient play center at Lurie Children's had an extra-special guest that made patients of all ages marvel in awe,  thanks to Jim and Jessica Butts of Extra-Life Chicago.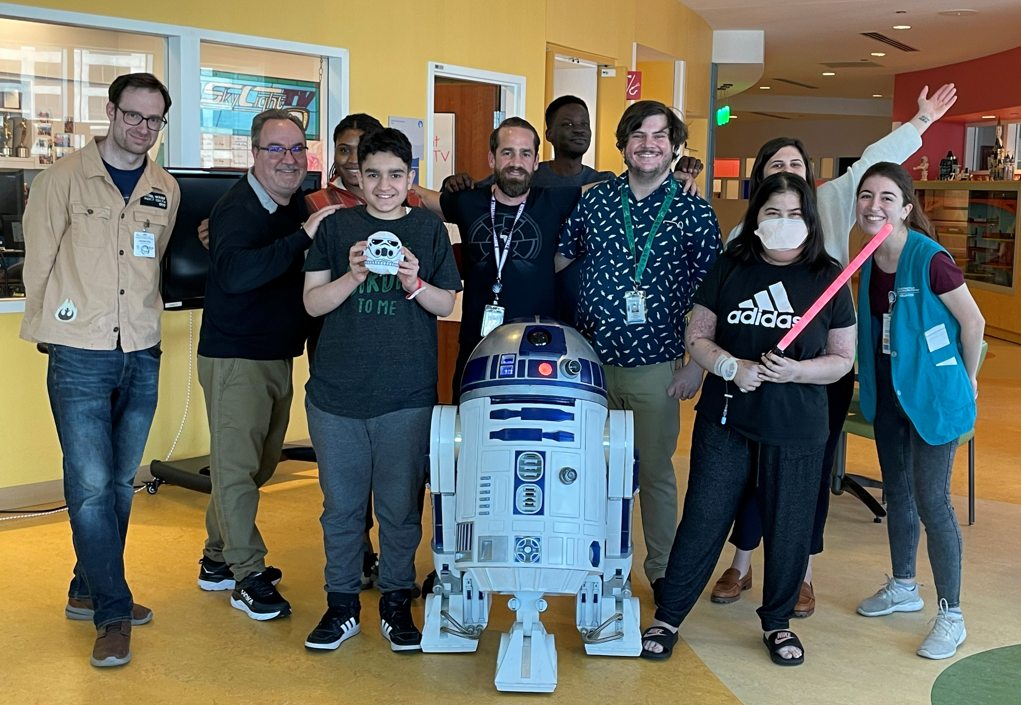 Jim brought his custom built R2D2 to Lurie Children's to celebrate the Star Wars fandom with patients in the play center. The instantly recognizable droid sounds made patients smile as R2D2 coasted along the floor for photo-ops, conversation and questions.
In addition to volunteering his time at the hospital, Jim has raised nearly $7,000 dollars for Lurie Children's through his individual fundraising efforts for Extra-Life.  Jim has also organized teams and events that collectively raised more than $380,000 over his years of support.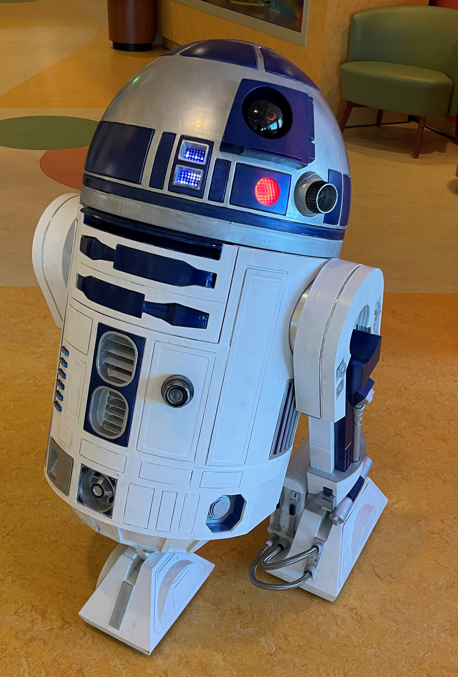 Jim has been programming the droid for over a year and, as it gets closer to completion, offered to spend the afternoon bringing magic to the hospital. He said about the impactful visit:
"This #maythefourth, I had the honor of bringing R2-D2 to life and sharing this beloved character with children who needed a little extra joy in their lives. Seeing the smiles on their faces and the hope in their eyes reminded me what's possible when we put our minds and hearts into sharing our passions."
During its visit to the hospital, R2D2 also helped host Star Wars Trivia programming on Skylight TV, the play centers closed circuit network, for patients and families who cannot leave their rooms. The happiness that Jim, Jessica and R2D2 were able to bring to the Panda Cares Center of Hope was immeasurable on May the Fourth.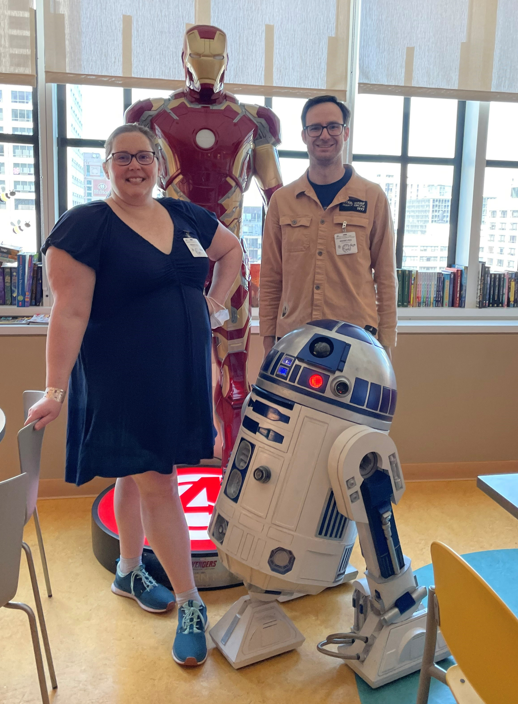 Jim, Jessica and R2D2 have been making Star Wars fans smile throughout Chicago. In 2022, Jim brought R2 to our Extra Life Chicago Gaming Convention to share with our event participants. If you want to catch R2D2 at an event or convention, follow Jim's Instagram page: @myartoobuild.
Thank you Jim for your continued dedication to the patients and families at Lurie Children's.
>>>>>>>>>>>>>>>>>>>>>>>>>>>>>>>>>>>>>>>>>>>>>>>>>>
What is Extra Life? The Extra Life community consists of thousands of gaming-centric, passionate people who fundraise for Children's Miracle Network Hospitals. Sign up to play games, live stream and fundraise today for Lurie Children's!
Want to join Extra Life? Visit extra-life.org to register. Set a fundraising goal and choose Lurie Children's Hospital as your Children's Miracle Network Hospital. Play on Game Day, November 4, 2023 or choose your own date to play.
Questions? Reach out to Jackie Lohr at extralifechicago@luriechildrens.org for more information on how to get involved!