Extra Life Chicago Raises Over $300,000 for Lurie Children's and Celebrates Gamers Milestones!
Lurie Children's is proud to announce the 2020 fundraising total of… $312,956.51! This total is a 21.6% increase from fundraising in 2019, which speaks to the dedication, passion and resiliency of the Extra Life Chicago community during some of the most challenging months. This week we were able to celebrate this historical total and had had help from our 2020 Extra Life Champion, Brannon, who build the total in Minecraft, his favorite game!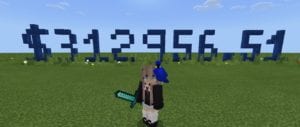 To wrap up 2020, we want to celebrate YOU and the incredible milestones achieved this past year (steams are linked):
Crimson Valentine (Samantha) earned their first silver medal for raising over $500
Our Klingon Pop Warrior celebrated raising over $7,500 in 2020 bringing the cumulative total to over $16,000 since 2015! Check out their website for shows and events.
Rino Loiotile raised over $5,000 in 2020, with a goal of $3K!
Michael Biel is celebrating 7 years with Extra Life!
Dave Hansen hit his goal of $2021 and is going into his 11th year of Extra Life! He was also selected as a Change Maker of the Month for Lurie Children's, check out his blog post here!
Melissa Lee-Litowitz was a new Extra Lifer in 2020 and raised over $2,500 which was 250% over their goal!
Tom celebrated being the Worst Among Us player in all of Extra Life (his words not ours)! We believe in you Tom!
Gary Baugher celebrated raising over $4,500 between 2019 and 2020!
Nate Clemente raised over $10,000 in 2020, and rang in first place at ELU! Nate was also featured as a Change Maker of the Month for Lurie Children's, check out his blog post here!
Jon Smith celebrated 10 years with Extra Life!
Emily Kukral was selected by CMN Hospitals as an Angels in Action Award Recipient!
Elaine Hamarstrom did a stream only event on Game Day this year for the first time, and achieved a new fundraising record of over $2,000!
Patrick Davey and his team raised over $6,000 in 24 hours for the first time!
Ricky Estrada found out he ranked in the top 100 participants in 2019!
Devin Ingels celebrated 8 yeas with Extra Life!
HUGE shout out and congratulations to all of you who achieved new fundraising records, streamed for the first time, celebrated milestone gaming years and more. We at Lurie Children's are inspired by each of your commitments to the kids and families in Chicago! If you aren't on this list but hit a milestone in 2020, or already in 2021, be sure to let us know here so we can celebrate you too!