Behind the Controller: Rino Loiotile
We recently went behind the controller with Rino Loiotile, 28, who over the past seven years has been advocating for patients and families at Lurie Children's.  Rino grew up in West Chicago, and now lives in Glen Ellyn. Rino's a first generation American whose parents grew up in the same small town of Bari, Italy. Rino's Italian background has become part of his Extra Life story which you can learn about below. You can follow him on Instagram here, check out his stream here and donate to him here! 
How long have you been involved with Extra Life & Extra Life Chicago?
I have been fundraising for Extra Life since 2014 and have been an active member of the Chicago Guild since 2016.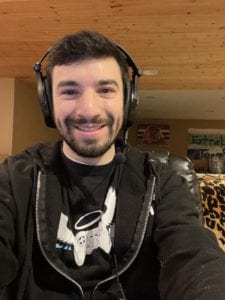 How did you find out about Extra Life?
I found out about Extra Life through a video production & entertainment company called Rooster Teeth. I have watched hours and hours of their video content and they happen to be the team that fundraises the most for Extra Life each year. They have been raising over a million dollars the past few years! They also do an annual 24-hour Extra Life fundraiser that is usually full chaotic sketches, games and stories about their local CMN Hospital.
What is your "why"? What keeps you inspired to raise funds and awareness for Lurie Children's?
My reason why I want to keep raising funds and awareness for Lurie Children's Hospital is that I was a lifelong patient there.
When I was born, my doctor found a heart murmur listening to my heart and recommended my parents take me to Children's Memorial Hospital (now known as Ann & Robert H Lurie Children's Hospital) in Chicago to get it checked out. At five months old, I was diagnosed with Aortic Stenosis which was caused by being born with a bicuspid aortic valve. Basically, this means my aortic valve does not function properly and causes blood to be pumped hard against my aorta which can enlarge it. It also doesn't close fully and causes oxygenated blood to leak back into my heart so it doesn't operate as efficiently as a normal heart.
Growing up, I never really showed symptoms of my heart condition. Visiting Lurie Children's multiple times a year for tests, monitoring and follow ups really did put a mindset of how serious it was to be taken even though I looked and acted normal amongst my peers.
When I was 12 years old the doctors informed me and my family that I would need open heart surgery to repair my aorta and replace my aortic valve using a donor valve with the Ross Procedure (Fun fact: Arnold Schwarzenegger had this same exact procedure done!). I spent a week in the ICU and eight weeks at home to recover. The doctors knew this wouldn't be a permanent fix and would continue to monitor me the same way they have been my entire life.
When I turned 22 years old, I was informed again I would need open heart surgery to repair my aorta and valve. I again spent a week in the ICU, this time at the new downtown location of Lurie Children's and eight weeks at home to recover.
Now at 28 years old, I have transferred out of Lurie Children's Hospital to Northwestern Medicine Facilities. Since my cardiologist at Lurie's is also an adult cardiologist at Northwestern Medicine, I get to keep the same amazing doctor that has been watching over me since I was 14 years old. I am still required to be monitored and have tests done but not as frequently as I had to when I was growing up.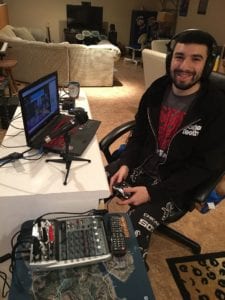 As you can see with my personal experience with Lurie Children's hospital, without their care, knowledge and support I wouldn't be alive today. This is why I Extra Life.
What makes you so passionate about raising funds for CMN Hospitals/Lurie Children's?
My deep connection and personal experiences with Lurie Children's makes me passionate about raising funds through Extra Life. I get to combine my favorite hobby of playing video games and support a cause that means so much to me.
Are you a tabletop gamer? A video gamer? Both?
I am totally a video gamer having an Xbox One, Nintendo Switch, and PC (Listed in order of what gets played the most), but I would also consider myself a casual tabletop gamer never passing up the occasional Catan night. One of my goals for 2021 is to learn how to play Dungeons & Dragons.
What is a fundraising threshold or accomplishment you are especially proud of?
I thought with the pandemic going on that 2020 would not be the best year to ask for donations so I had set the same goal I had for 2019 which was $3,000. With the amazing support of my friends and family, I was astonished to end 2020 with over $5,000 raised for Lurie Children's!
What does Game Day look like for you?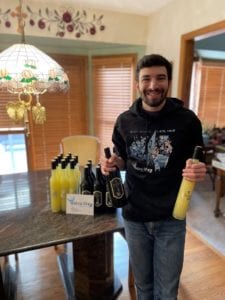 My 24-Hour Game Day marathon is held on the day after Thanksgiving, aka Black Friday. It starts at 8AM and ends at 8AM on Saturday morning. I don't normally stream myself playing video games but I bought all the streaming equipment specifically for Extra Life so my donors can see that I am committed to playing for 24 hours. My parents host my Game Day in their basement so that is where I set up my streaming and gaming gear. We treat it like a party inviting my friends and family over for food in exchange for donations. My friends get to join in on the gaming action and a few of them stay over to help me stay awake for the full 24 hours of gaming. My mom usually makes homemade pizzas to keep everyone fed and my dad loves to offer his homemade wine to go with it.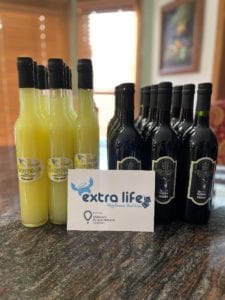 With the ongoing pandemic, I knew my parents couldn't host a party like they usually do for my game day for 2020. I still played video games in my parents' basement for 24 hours but this time it had to be solo. I still had a few friends join me virtually through my stream and Xbox Live online gaming. My parents also helped me by offering the donation incentive of giving a bottle of homemade wine and limoncello to anyone that donates $100 or more. This turned out to be a very popular incentive and raised over $2,000 alone! I may need to bring it back for Game Day 2021.
What is your favorite memory involving Extra Life?
My favorite memory involving Extra Life was working the Extra Life booth at the Halo Outpost Discovery Expo since Halo is my favorite video game series of all time. Explaining to fellow Halo fans what Extra Life is while Being immersed in all the Halo lore I can imagine is definitely something of a unique experience.
How long have you been gaming and what are your favorite games to play?
I believe my first video game ever played was James Bond Goldeneye 007 on a Nintendo 64 when I was 5 years old so I would say I have been gaming for 23 years! This makes sense since my favorite genre of video games are first-person shooters. The Halo and Call of Duty series has to be my favorite games to play nowadays.
What is your favorite childhood game?
My favorite childhood game has to be Halo 2 on Xbox. I remember spending countless afternoons and nights during middle school playing online multiplayer for hours with friends.
What would you tell someone thinking about signing up for Extra Life?
Do it! It's super easy and very rewarding as you will learn that it's about much more than video games!
Has COVID-19 and quarantine altered your gaming routine?
COVID has definitely altered my gaming routine by playing a lot more than I usually do. It has also involved a lot of Zoom calls with friends for us to get together virtually for game night.
Thank you for being for the kids and part of Extra Life Chicago, Rino!