Orangetheory Fitness – Chicago Streeterville Location Hosts Nurse's Week Class!
Every year, nurses around the country and in Children's Miracle Network Hospitals are celebrated during National Nurses Week! This year, National Nurses Week was celebrated from May 6thto May 12th and acted as platform to elevate the hard work and dedication nurses give to patients and families. As frontline workers, nurses make a profound difference in the lives of patients every day and are essential to the healthcare workforce.
In order to recognize the importance of nurses in Chicago, Orangetheory Fitness in Streeterville (OTF Streeterville) donated their time and expertise to run a complimentary workout class for any Lurie Children's nurse that wanted to join on May 11th.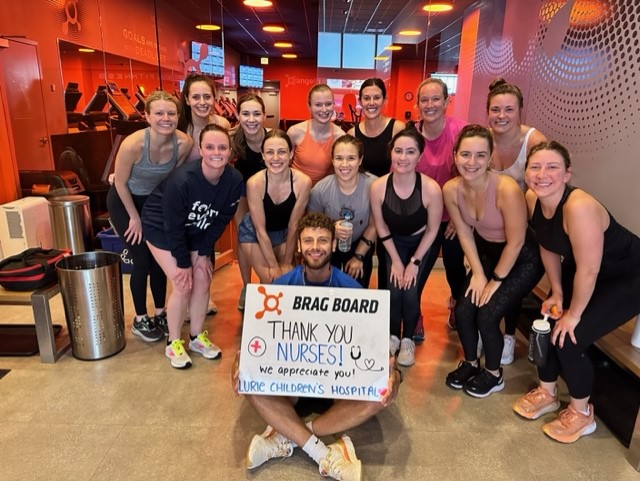 Orangetheory coaches provided a warm welcome to the nurses, a snack and an effective 60-minute workout involving running, rowing and weightlifting. The coaches took time going over the workout format and were mindful to ask of any injuries prior to starting. At the end of the workout, the staff at Orangetheory fitness graciously raffled off at one-month membership to one of the nurses in attendance.
As an added benefit, all nurses at Lurie Children's Hospital get one complimentary class at our studio as well as a discounted membership! Contact their studio today at 312-778-8998 to learn more!
Lurie Children's is so thankful for the team members at OTF Streeterville who took the time to make our nurses feel appreciated for the compassion and care they give to our families daily. Thank you to our nurses for all that you do for the patients and families of Lurie Children's.