What We Learned: Children's Bridges Dance Marathon
Children's Bridges Teen Leadership Board (CBTLB) is a junior leadership board comprised of 4 high schools on the North Shore of Chicago that come together to raise funds and awareness for Lurie Children's, our local Children's Miracle Network Hospital. On December 5th, 2020, we hosted our 6th annual Dance Marathon, drive-in style! With the ongoing COVID-19 pandemic, the Board committed to a year of creativity and innovative ideas ranging from virtual yoga classes, a virtual baking class, and finally a drive-in Dance Marathon.
Pre-Event Fundraising
Leading up to Dance Marathon, we hosted a variety of virtual fundraising opportunities.
A virtual yoga class where we charged $10 for people to join. We hosted the class over Zoom and had a parent of a board member who was a yoga instructor lead the class. The class took place on a Thursday morning (during the summer months).
A virtual CPR and Heimlich maneuver class. One of the parents of a person on our board is a Sports Medicine physician and was able to teach a class over Zoom on how to save a life. We charged $7 for this class
A virtual fundraising push day where we set out to raise 5K in one day. The entire board rallied around the goal, and we ended up raising over $27,000. We encouraged each board member to raise $
A virtual baking class in partnership with a local Chicago restaurant. The class was $75 and served four people, but the $75 did include a baking kit with all the ingredients you needed to make the meal. The class took place on a Saturday morning over Zoom, and we even were able to safely bring in a Miracle Kid (Rosie) to cook alongside the person leading the class!
A virtual Wine tasting class with a local Chicago restaurant. Since we are a high school program, this was strictly for parents or family friends of those on the board. This was mainly led by our Advisor, but did raise a significant amount of funds.
Event Planning
In planning for our event, we normally host our Dance Marathon on the first Saturday of November. Because things kept changing with COVID rules in Chicago, we chose to push back our event and commit to something somewhat in-person knowing there was no way we would have our normal event this year. In one of our planning meetings, we had thrown around the idea of doing a drive-in movie style event, and then just decided to run with the idea, not really knowing where it might lead.
The first order of business was finding a drive-in movie screen rental company. We were able to find one local to us that provided a 30ft movie screen, a projector, and were there to set it up and take it down. We found this was a comparable price to what we normally paid for an event venue.
Once we booked a movie screen, we scouted a location. We were able to find a parking lot with enough spots to hold up to 100 cars with two spots in between. We planned on having two spots between cars, but once the screen was set up at the event, we realized we were able to do it safely with just one spot between cars.
Planning for the event, we had to choose between doing a normal Zoom meeting event where everyone would show up as a participant or as a Webinar style.  We hosted the event as a Webinar style Zoom. This way people could join from their cars to participate in the event chat without having to worry about having a strong enough Wi-Fi connection or data in the parking lot.
Prior to the event, we asked people to register their cars so we could keep track of the number of people attending and ensure we had the right space before the event. We used this form, and then also used these names as our car check-in method at the event.
Event Logistics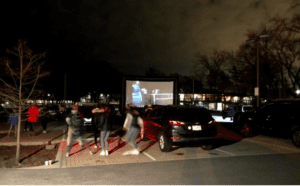 The night before our event, we hosted a drive-through packet pickup. Participants had a two-hour window to come and pick up their bags which included a t-shirt, snacks in lieu of the meal they normally get at DM, all of their fundraising incentives they earned, and anything they needed for the event from their cars. In preparation for this pickup, we created bags ahead of time-based on our fundraising levels, and then when people arrived to pick up their bag, we checked how much they had raised and then added their t-shirt to it at the pick-up. In the bag, we included Bingo cards for the Bingo game and glow sticks for the Rave. We wanted to make sure everyone had what they needed depending on if they were attending in person in their car, or from home on Zoom.
Here is our event schedule. This shows the activities we planned for the event, and who was leading them. Here is the event recording as well!
Below are the people we needed to make the event run smoothly:

EmCee- we had an EmCee for our event. This was SO helpful. The EmCee joined the event from home to ensure that they had a stable Wi-Fi connection.
Computer Operations Person Offsite- this person joined from home and is the one who kept the event flowing behind the scenes from changing the slides, playing videos, starting and running the Kahoot, playing Spotify music, etc. Again, joining from home was to ensure stable WiFi
Computer Operations Person Onsite- this person made sure the computer connected to the projection screen was functioning and broadcasted both music and sound.
Car runners- we had people designated in the lot as car runners so when someone won Bingo or the Kahoot, they could run them the gift card or prize they won

We needed quite a few computers for the event. Below are the computers we used:

1 computer attached to the projector. This computer was logged into the event as an attendee. At the end of the night for the total reveal, we promoted this "participant" to a panelist and turned the webcam to face the total reveal so people from home could watch the reveal live. The EmCee from home or the person at the back of the parking lot could narrate the total reveal for people to watch live.
1 computer for any live portions of the event at the back of the parking lot, this computer was logged in as a panelist
1 computer at the back of the parking lot facing all of the cars. This computer was logged in as a panelist and was just to show a view of the event for those attending from home.
Things We Learned
We originally planned on having cars two spots apart, but we found that one spot was ample social distancing space. By encouraging people to get out to the left of their car, they kept a car in between people as well.
In the parking lot, we had originally planned to do any live portions at the front with the computer connected to the screen. There was a lot of sound feedback during the test run before the event, so we ended up having to park a car far back in the lot away from the screen. Anyone who was speaking live from the lot (opening ceremonies, morale dance, etc.) came to this car where the computer was set up in the trunk. If we were to do it over, we would have set up a table in the back that made everything a little easier.
WEBCAMS! Webcams were a lifesaver because the quality of the video being projected on the screen was much better. We used this one from Amazon that also had a ring light which was helpful to see those speaking.
In the parking lot, we had half of the lights turned off. If we were to do it again, we would have turned off all the lights to make it as dark as possible.
Hotspots are so important. We were able to borrow some from our hospital which were much stronger than our phones. There was no Wi-Fi in the parking lot, but the hotspots worked perfectly.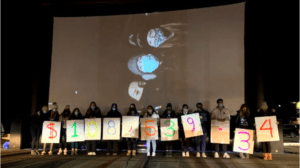 At 5:00 pm on December 5th, over 60 cars funneled in a parking lot in our community, where the 30-foot drive-in movie screen set up for the 2-hour virtual Dance Marathon. Those who were not able to attend in person in their car were able to join from home via the Zoom link. While it wasn't our normal event where we could all be together, we had an incredible time and are grateful we were able to bring to life an idea that allowed us to be together in our cars! Throughout the night there was lots of laughing, a great time with families that felt almost normal through Zoom, lots and lots of car honks, and an overall feeling of celebration. We celebrated a total of $108,539.34 raised for patients and families at Lurie Children's! This was a historic year for the board as this was our first year to raise over $100,000. We hope to be in person next year, but if not, we had such a fun time planning and attending our virtual Dance Marathon and would do it again in 2021!
Prepared By:
Maci Hanson (she/her/hers)
Development Officer, Children's Miracle Network Hospitals
---
Miracle Network Dance Marathon is an international movement, involving over 400 colleges, universities and K-12 schools across North America that fundraise for their local Children's Miracle Network Hospitals. Since its inception in 1991, Miracle Network Dance Marathon has raised more than $300 million–ensuring that no child or family fights pediatric illness or injury alone.
Learn more about Miracle Network Dance Marathon: